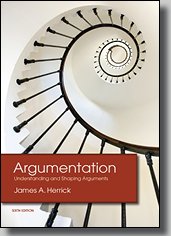 isbn:
9781891136429
IM: 9781891136436

2019
314 pages
paperback
photos and illustrations

suggested list price: $105.00

price to college bookstores:
$84.00
Available now!
Argumentation

Understanding and Shaping Arguments
sixth edition
This highly regarded textbook explores the skills—clear thinking, critical listening, and careful analysis—that are vital to rational, democratic discourse, and that today's citizens and professionals need to make and evaluate arguments in real-life contexts.
Drawing on classical and contemporary theory, it explores the structure of arguments; the criteria of evidence, validity, and linguistic clarity; common types of arguments and fallacies; and issues in adapting arguments to audiences. Abundant examples and exercises illustrate principles in terms of students' personal, professional, and civic lives.
The new edition is updated to reflect current theory and public concerns, including issues that arise with rapidly expanding internet resources and digital media.
FEATURES
focus on argument in students' own lives, with examples from a wide array of current issues and contexts

emphasis on ethical responsibility and audience-centered argument

substantive, clear, engaging explanations of concepts, principles, and guidelines

thorough, step-by-step approach to understanding and analyzing arguments
FEATURES OF THE NEW EDITION
updated examples and exercises, reflecting current events, issues, and media forms

expanded, updated discussions of visual evidence and arguments (Chapters 6 and 17)

new discussion of conspiracy theories and critical evaluation of evidence (Chapter 6)

expanded discussion of internet resources and discourse, with a new section on podcasts (Chapter 7)

INSTRUCTIONAL RESOURCES
key terms at the beginning of each chapter, with a glossary at the end of the book

abundant exercises following each chapter

websites with additional resources listed after each chapter

epigrams, pull quotes, and figures highlighting salient points

photographs illustrating visual arguments and the pervasiveness of argument in our lives

instructor's manual with many additional exercises and teaching resources
COMMENTS FROM PROFESSORS
COMMENTS ON THE PREVIOUS EDITION
ABOUT THE AUTHOR
James A. Herrick is the Guy Vander Jagt Professor of Communication at Hope College. He received his B.A. from California State University, Fresno; his M.A. from the University of California, Davis; and his Ph.D. from the University of Wisconsin-Madison.
Professor Herrick regularly teaches courses in argumentation, rhetorical criticism, and the history of rhetoric. He has received the John and Ruth Reed Faculty Achievement Award for excellence in teaching and research.
Herrick is the author or editor of eight books, on topics ranging from the history of rhetoric to Enlightenment religious discourse. His co-edited collection of essays, After the Genome: A Language for our Biotechnological Future, received the edited volume of the year award from the Ethics Division of the National Communication Association. His latest book is Visions of Technological Transcendence: Human Enhancement and the Rhetoric of the Future (2017).